THE YASUKUNI SWORDS:
RARE WEAPONS OF JAPAN 1933-1945
Tom Kishida, translated by Kenji Mishina (2004)
English language translation of Yasukuni-To: Tradition and Ideal Beauty (1998); the definitive reference on the swordsmith group founded in 1933 at the Yasukuni Shrine by the Japanese War Ministry. The forge produced the tamahagane required for traditionally made swords while its smiths created some of the finest example to be made during the period -- many of the blade reminiscent of earlier masterworks. A very high quality publication with excellent oshigata and vintage b&w photos. A must for those interested in Gendaito.
155 pages, 10½" x 7¾" hardcover
PIERRES ET SABRES:
STONES AND SWORDS - The Restoration of Japanese Art Sword Blades
Laurent Milhau (1999)
With full text in both French and English, Milhau demonstrates the art and complexity of sword polishing. For those fascinated by The Crafts of the Japanese Sword, this text furthers the examination of the togishi - sword polisher's - art. With color photographs and detailed descriptions of each stage of the polishing process, this is the only text of its kind for delivering an understanding of both the mechanics and theory of art sword polishing.
96 pages, 8¾ x 11¼" hardcover
HIZENTO HANDBOOK
EGUCHI Soshin, G. Robson, trans. (2003)
English translation of Hizento Hikke originally published in conjunction with a major exhibit. Here, with careful translation, an examination of the first generation Tadayoshi is followed by overview of traits characteristic to the school and the prolific line of smiths producing blades throughout the shinto and into the shinshinto eras. Essential, high-level study material made accessible to English-language readers.
318 pages, 7¼ x 10¼" hard cover
YOSHINDO YOSHIHARA
and THE YOSHIHARA TRADITION
San Rafael Token Benkyo Kai: L. Kapp, Editor (2005)
Sixty-eight examples are presented in this catalog prepared in anticipation of the important 2005 Pacific Asia Museum exhibit, and the recognition of Yoshindo Yoshihara as Important Intangible Cultural Property of Tokyo. Includes essays, genealogy, diagrams, glossary, 74 black & white, and 14 color plates. This privately published catalog was a limited printing of 1000 copies.
72 pages, 8½ x 11" soft cover
An Oshigata Book of
Modern Japanese Swordsmiths: 1868-1945
John Slough (2001)
This much anticipated work addresses the large gap present in sword scholarship as related to gendai-to - modern Japanese swords of the Shinshinto, and more specifically, W.W.II era. Includes excellent oshigata and extensive documentation. Each smith is referenced to his listing in Hawley's Japanese Swordsmiths, Toko Taikan, and the Shinto volume of Nihon Toko Jiten. This high quality publication is further supported by vintage b&w photos, period advertisements and exhibition results. With very few entrants to this specific field of study, this English language work is a must for those interested in the study of Gendaito. The book was reprinted in 2004 as a hardcover while the contents remained the same.
272 pages, 8½ x 11" soft cover
An Oshigata Book of
Modern Japanese Swordsmiths: 1868-1945
John Slough (2004)
This much anticipated work addresses the large gap present in sword scholarship as related to gendai-to - modern Japanese swords of the Shinshinto, and more specifically, W.W.II era. Includes excellent oshigata and extensive documentation. Each smith is referenced to his listing in Hawley's Japanese Swordsmiths, Toko Taikan, and the Shinto volume of Nihon Toko Jiten. This high quality publication is further supported by vintage b&w photos, period advertisements and exhibition results. With very few entrants to this specific field of study, this English language work is a must for those interested in the study of Gendaito. The hardcover edition was produced in 2004.
272 pages, 8½ x 11" hardcover
JAPANESE MILITARY AND CIVIL SWORDS AND DIRKS
R.Fuller, R.Gregory (1996)
A history and comprehensive reference on Japanese edged weapons in military service. Though not a collection of oshigata, it provides the most current information on swords of the period including: a reappraisal of arsenal and retailer's stamps, and an expanded classification of blade-making methods in order of merit.
288 pages, 7¾ x 10" hardcover
THE OSHIGATA BOOK
R.Fuller, R.Gregory (1985)
Subtitled, 'unusual, rare, and interesting oshigata from Japanese sword blades of all periods.' This reference text delivers an excellent collection of oshigata categorized into variations on the conventional practices of name, place, date to instead address examples of special order, presentation, and tameshigiri (cutting-test) inscriptions to name a few of the categories. Examples are shown with full English and Japanese translations.
144 pages, 5¾ x 8¼" soft cover
The 40th Anniversary of Sano Art Museum, Special Exhibition -
THE FLORES OF JAPANESE SWORD MASTERS OF THE EDO PERIOD: KOTETSU AND KIYOMARO
(Sano Museum, 2006)
Bringing together masterworks of the Shinto and Shinshinto eras, this catalog presents seventy-one examples in a large format reference. This special printing in commemoration of the museum's 40th anniversary sold out quickly. Accessible to non-Japanese readers with its English-language index that includes transcription of mei in romanji and measurements. Each sword is shown in full-color photographs detailing the workmanship that made Kotetsu and Kiyomaro the most influential smiths of their time.
159 pages, 8½ x 11½ hardcover with slipcase
NIHONTO JITEN
TOKUNO Kazuo (1973)
From the author of the well known Toko Taikan (1977), this book bares distinction as its 110 pages of oshigata of important smiths of the Koto through Gendai periods has been made accessible to English-language users through the JSS/US' Index of Sword Literature - a testament of its utility as a tool of study. Further, the oshigata here are of higher quality than seen in the 1977 text because of its larger size. Like the later work, this Japanese-language reference includes biographical information for each listed smith, and cites relative Yen values for comparison. Also included is a separate English-language listing of the oshigata with index numbers to Hawley's Japanese Swordsmiths; this index allows the book to stand on its own.
263 pages, 7¼ x 10¼" hardcover
日 本刀工辞典


NIHON TOKO JITEN
FUJISHIRO Matsuo (r.1964)
The classics Japanese-language sword reference. This reference set includes detailed oshigata and information of the most important smiths of the Koto and Shinto periods. Long considered essential texts, Fujishiro's rankings are a common reference of collectors and scholars alike, and serves as one of the key texts cited in Hawley's Japanese Swordsmiths. Included separately is Fujishiro's English-language index promoting accessibility for non-Japanese readers. A two volume set: Koto and Shinto.
Two 6¼ x 8¾" hardcover volumes
NIHON TOKO JITEN - English Translation
A full English translation of Fujishiro's classic with additional supporting material. Here the English reader is offered an opportunity for study as presented in no other text. Fujishiro's Nihon Toko Jiten is made fully accessible when supplemented by this English translation; an important tool for study and obvious value to serious collectors. A two volume set: Koto and Shinto.
Two 8¼ x 11" hardcover volumes
JAPANESE SWORD
HOMMA Junji (1948)
During Allied Occupation the National Museum of Japan held an important exhibition of Japanese Swords. This English-language text provided an overview of the history of swords in Japan. Be advised that it does not include photos or oshigata; its illustrations are directed toward sword nomenclature. What it does include is Homma's excellent and extensive essay, "Works of Art Made of Steel," which can easily serve as a basis for serious study.
72 pages, 5 x 7¼" paper hardcover
GENDAI TOKO MEIKAN
Ono Tadashi (1971)
One of the very few early references specifically focused on Gendai period swords and smiths. Includes oshigata and biographical information on over 200 of the top gendai smiths written in Japanese. While this is a Japanese language text, it is accompanied by an English index, and has been indexed in the JSS/US Index to Japanese Sword Literature.
262 pages, 6 x 8½" hardcover + English index
INTRODUCTION TO JAPANESE SWORDS THROUGH PICTURES
All Japan Swordsmith Association
Illustrated step by step instruction for cleaning and etiquette. Diagrams of production, koshirae variations, and sageo tying with descriptions in English and Japanese.
48 pages, 8¼ x 11¾" soft cover
SHINTO SHU (Hamon To Meiji)
FUJISHIRO Yoshio (r.1955)
An important shinto reference accompanied by a separate English translation and index. Oshigata and extensive descriptions. The oshigata included are cross-referenced to Shinto Taikan, Hawley, and Fujishiro's Nihon Toko Jiten Shinto-hen.
223 pages, 7½ x 10½" hardcover / plus separate 68 page English translation, Cross-Reference and Index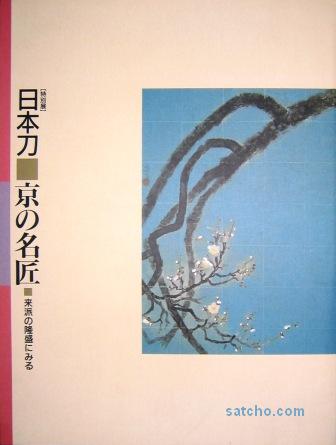 RISE AND PROSPERITY OF THE MASTERFUL RAI SCHOOL OF KYOTO
Sano Museum (1999)
This exhibition catalog surveys the Rai school drawing from private and public collections. Accessible to non-Japanese readers with its detailed, 4-page English-language index. Includes 47 blades; each shown in b&w photograph and traditional oshigata format. Inscriptions are further detailed in a useful seven page appendix.
129 pgs, 8¾ x 11¾" soft cover
MASAMUNE TO SONO ICHIMON:
Masterworks of Japanese Swords by Masamune and his school
NBTHK (Homma, 1961)
Beginning with a twenty-seven page essay on the "Swordsmiths of Sagami province with special reference to Masamune and his school" in both English and Japanese, this important text presents an assembly of Soshu school works including many Juyo Bijutsuhin (Important Art Objects protected from export) with large format oshigata in multiple perspectives as shown at right. Bilingual - Japanese and English - text throughout.
193 pages, 10¼ x 14½" hardcover

MINO-TO: Swords & Swordsmiths of Mino Province
M.E.Cox
The definitive English language reference on Mino swords; covers koto through shinshinto examples. When considered that of the Five Schools, the greatest number of swords can be attributed to the Mino tradition - these are the swords that collectors are most likely to encounter. Includes: historical material, construction, evolution, lists of kaji, groups, & over 100 pages of oshigata. A separate 34 page supplement is also included.
268 pages, 8 x 11½" soft cover
AUSGEWÄHLTE JAPANISCHE KUNSTSCHWERTER
AUS EUROPÄISCHEN SAMMLUNGEN DER NBTHK
SELECTED FINE JAPANESE SWORDS
FROM EUROPEAN N.B.T.H.K. COLLECTIONS
Hagenbusch et al, NBTHK European Branch (2002)
Cataloging a landmark exhibition of fine Japanese swords, this well organized text delivers 120 pages of expertly documented swords, 15 pages of koshirae shown in color plates, and an extensive glossary that will serve even the experienced student of Nihon-to. Also included is an in-depth study of Yagu tsuba, and three essays: "Meito or What Makes a Masterpiece?" and "Technology, Beauty, and the Soul of the Japanese Sword" by Nobuo Ogasawara, and "The Japanese Sword" by Michael Hagenbusch. Compares favorably with such classics as the Boston Museum (Ogawa, 1987) and Compton exhibition (Japan Society, 1976) books. Full text in both English and German.
334 pages, 9¼ x 13¼" hardcover
THE SCHOOL OF TADAYOSHI:
SAGA, HIZEN, JAPAN 1598 - 1871
R.J.Robertshaw (1999)
The definitive book on Tadayoshi school and Hizen-to. As the most prestigious school of swordsmiths whose work spanned the shinto through shin-shinto periods, Robertshaw has assembled a landmark work that is both concise while broad in scope. This ambitious text delivers essential content which includes an in-depth history of the individual smiths as well as exhaustive detail related to kantei. Oshigata of all recognized Tadayoshi is included along with consideration of gimei - false/fake -examples. Extensive illustrations: both line drawing, b&w, and color plates; bibliography, and index.
214 pages, "Gold Edition" 8½ x 12" hardcover with slipcase, CD included. A limited, private printing of 200 editions.
NIHONTO ZUIKAN: SHINTO HEN
KATAOKA Ginsaku (1984)
Japanese-language text with outstanding, large format oshigata of Shinto and Shinshinto period swords. A unique feature of this edition is that it includes a seven page romanji index making its contents accessible to non-Japanese readers.
1,067 pages, 8¾ x 11¾" hardcover, slipcase


YASUKUNI-TO
TRADITION AND IDEAL BEAUTY
Tom Kishida, translated by Kenji Mishina (1998)
The definitive reference on the swordsmith group founded in 1933 at the Yasukuni Shrine by the Japanese War Ministry. The forge produced the tamahagane required for traditionally made swords while its smiths created some of the finest example to be made during the period -- many of the blade reminiscent of earlier masterworks. A very high quality publication with excellent oshigata and vintage b&w photos. A separate 145 page English translation of the entire text is included. A must for those interested in Gendaito.
116 pages, 8� x 11�" soft cover & separate English translation

THE NEW GENERATION OF JAPANESE SWORDSMITHS
TSUCHIKO Tamio (2002)
Twenty notable gendaito smiths define what makes a "fine sword" while describing their personal aspirations with regards to their art. This insightful work gives readers unrivaled access to first-hand information on swordmaking theory and process. A common theme throughout the text is "Restoration". Here restoration refers to ongoing efforts to emulate classic koto period masterworks. Beyond biographies, Tsuchiko demonstrates an active community of artists as each smith is shown interacting with others; examples include polishers, patrons, and others.
In short, this book presents each smith's understanding of Nihonto as realized thought a lifetime's immersion in its study and creation. It is an essential text for all sincere students of the sword - of all periods.
256 pages, 7¾ x 10¼" hardcover

JAPANESE SWORDSMITHS
Commemorative Centenary Edition
W.Hawley
This is the latest revision of the indispensable English language reference on Japanese swords. As the largest compilation of swordsmiths, each listing includes: where and when each smith worked, how they signed, and the relative value of their swords. Hawley also indexes listings to oshigata in Fujishiro's Nihonto Toko Jiten and Tokuno's Toko Taikan.. This Commemorative Centenary Edition is completely re-photographed with historical material revamped for easier reference of provinces, time periods, and terminology.
1,032 pages in 2 volumes, soft cover


JAPANESE SWORDSMITHS
W. Hawley (1981)
Expanding on his 1967/68 publication this is Hawley's revised listing of his indispensable English language reference on Japanese swords. As the largest compilation of swordsmiths - the same listing as the later Centenary Edition in two soft-cove volumes, each listing includes: where and when each smith worked, how they signed, and the relative value of their swords. Hawley also indexes listings to oshigata in Fujishiro's Nihonto Toko Jiten and Tokuno's Toko Taikan.
1046 pages, 9 x 11¼" hardcover


JAPANESE SWORDSMITHS
W.Hawley (1967, 68)
Hawley's first English language listing of Japanese swordsmiths. Its initial 1967 volume contained 13,500 names used by 12,000 smiths. With the second volume this was expanded to list 17,000 swordsmiths representing the largest compilation of its time. Each listing includes: where and when each smith worked, how they signed, and the relative value of their swords. Hawley also indexes listings to oshigata in Fujishiro's Nihonto Toko Jiten. While including only a limited number of modern smiths as received study in 1960s Japan, this set has the index to the Juyo Token Nado Zufu (volumes 1-17) that was later omitted from the 1981 and final printings.
1248 pages in 2 volumes, 5¾ x 8" hardcover

JAPANESE SWORDS IN DUTCH COLLECTIONS
Han Bing Siong (2003)
A detailed study of 85 fine blades published in commemoration of the Netherlands Token Society's (De Netherlandse Token Vereniging) twenty-fifth anniversary. The selected blades were drawn from 500 examples catalogued by the Society. Extensive commentary drawing on the author's life's study accompany each work. With traditional oshigata of each sword plus 18 b&w, and 23 color plates.
224 pages, 8¼ x 11¾" hardcover


MEIHIN KATANAEZU SHUSEI
TANOBE Michihiro (1999)
This spectacular book sold out of its sole, limited printing of 600 copies well before distribution. This definitive reference of important swords contains 204 large format examples, with each example taking up one page with oshigata and photographs. In addition, detail of mei are included, some with additional comparisons. All oshigata were produced by Tanobe Michihiro (NBTHK). The blades are the finest examples: kokuho, important cultural property, art object and the like. The book itself is simply beautiful. Double boxed, the book is tied with tape (ito) and then stored in a two-fold, cloth covered folio that closes with pegs. The large format provides unparalleled representation. In all, an exceptional reference for the serious collector. An English index is also included.
21½ x 14½" bound folio with hardcover case, boxed

JAPANESE SPEARS
Polearms and their use in Old Japan
Roald & Patricia Knutsen (2004)
Following Knutsen's landmark Japanese Polearms (1963) is another study of "...the dominant weapons of the battlefield until displaced by the widespread introduction of firearms in the late 16th century. This fully illustrated study of "naginata" and "yari" records the many variations of spear design from the ancient period when warrior chieftains settled in Japan from the Asian mainland, down to the fall of the Tokugawa in 1868 that marked the close of the feudal period."
288 pages, hardcover


A COLLECTORS CHOICES:
ASIAN ART FROM THE COLLECTION OF
DR. WALTER A. COMPTON
Yutaka Mino et al (1983)
Presentation of the Indianapolis Museum of Art, a special exhibit of 115 choice pieces which includes 8 blades, and 19 sword fittings from the Compton Collection; the remainder comprising paintings, ceramics, and textiles.
72 pages, 7 x 10" softcover

KANZAN SHINTO OSHIGATA DICTIONARY
With Romanization and English Forward
SATO Kanzan (2005)
Published in commemoration of the late Dr. Kanzan Sato, this important shinto reference has been reprinted with its entire contents indexed in English. Full romanization of inscriptions and descriptive text are included, fulfilling the scholar's intention of "publish[ing] a book on swords in English that would be easy for overseas sword lovers to understand".
502 pages, 9 x 11½" soft cover

NIHONTO MEISAKU SHU
Shibata Mitsuo (1965)
This text presents a large collection of Japanese sword masterpieces, with the an emphasis on Shinto and Shinshinto works. Beautiful, traditional oshigata of the the highest quality. Multiple perspectives, including nakago and monouchi, for each blade are shown. Excellent study material. Commentary and index in Japanese. A separate English-language index is also included.
124 pages, 7¼ x 10½" hardcover

JUKKEN: Nihon Koto Meisaku Shu
Shibata Mitsuo (1967)
This Japanese-language text presents a large collection of Koto period masterpieces shown in 130 pages of beautiful, traditional oshigata of the the highest quality. Multiple perspectives, including nakago and monouchi, for each blade are shown. Excellent study material. Commentary and index in Japanese. A separate English-language index is also included.
136 pages, 7¼ x 10½" hardcover w/slipcase

TOKEN TOSOGU, TOKUGAWA BIJUTSUKAN ZOHIN SHO 6 -
Swords and Accessories, Treasures from the Tokugawa Art Museum No. 6
Tokugawa Art Museum (1992)
A collection catalog. The 180 examples presented include many important blades primarily of Juyo to National Treasure status (89 pages of oshigata), sword fittings and koshirae, and many daisho. High quality photography throughout and printing on gloss stock -- all exhibits are shown in color with the exception of the blades which are shown in b&w as is traditional. The unprecedented collection of highest quality works includes a complete, 10-page English-language index of exhibits affording access to non-Japanese readers.
197 pages, 8½ x 10½" soft cover

MEITO ZUIKAN - CATALOG OF FINE SWORDS
FUJISHIRO Yoshio & Matsuo (Published 1978 - 1993)
This complete twenty-eight volume collection accompanied by a separate English translation and index presents detailed oshigata with scholarly descriptions. Each journal includes ten studies; important swords spanning Koto through Shinshinto periods. Images printed on gloss stock for maximum clarity.
280+ pages, 7½ x 10½" journals retained between printed, cloth boards/ plus separate 280+ page English translation

昭和大名刀図譜
SHOWA DAI-MEITO ZUFU -
Great Masterpieces of Japanese Art Swords
(HOMMA Junji, 1979/82)
The authoritative two-volume presentation of 313 meito - masterpieces as could only be assembled in Japan. Included is the third volume, its English translation which was printed in limited quantity.
780 total pages in three volumes, 10½ x 14½" hardcover, with slip case(s)




KANESADA AND KANEMOTO
Mino-To of the Sengoku Jidai
Gifu City Museum of History, Japan (2008)
Famed for their extreme sharpness; their works are rated o-wazamono. This Japanese-language catalog details all 39 exhibited blades with detailed photography followed by an illustrated glossary of kantei-points and signatures. An important and welcomed reference on two mainline Mino schools.
80 pages, 7½ x 11½" soft cover


SEIKADO MEITO HYAKU SEN
100 Masterpeices from the Seikado Bunko Art Museum (1992)
Exceptional documentation of the Seikado Bunko Art Museum's important collection of nihonto. Prefaced by six fine koshirae and four tsuba, the one-hundred nihonto exhibits are expertly recorded with both traditional oshigata and photographs of sugata, nakago, and monouchi. Readily accessible to non-Japanese readers; it includes a six-page, English-language index that noting: attribution, transcription of mei in romanji, school, period, province and length.
237 pgs., 8½ x 12" hardcover with slipcase

THE JAPANESE SWORD, The Soul of the Samurai
Gregory Irvine (2000)
Drawing primarily from the collection of the Victoria & Albert Museum (UK), this book presents an 'illustrated survey [that] examines the development of the Japanese sword in a social and historical context'. The unique perspective of the text is well supported by high quality photographs of swords, mountings, and prints throughout. Photos are in color with the exception of sword blades as is traditional. A beautiful work that belongs on the shelf of every enthusiast.
128 pages, 8¾ x 10" hardcover

1979 BULLETIN:
The Annual Publication of the JSS/US
JSS/US, R.Hartman, Editor (1976)
Contains: Ko-tosho and Ko-katchuishi Tsuba, Japanese Matchlocks, Torigoye's Introduction to Japanese Metalworks, Christie's Auction (6/79) report with 13 important oshigata, '79 Taikai Report, Explanation of Origami (certificates), and other articles.
80 pages, 8½ x10¾" soft cover

1980-1981 BULLETIN:
The Annual Publication of the JSS/US
JSS/US, R.Hartman, Editor (1982)
Contains: Ozawa Masatoshi - Master Swordsmith, A Brief History of Japanese Sword Fittings, An Extremely Rare Blade by Shodai Izumi-no-Kami Rai Kinmichi, Modern Tsuba-Ko in America, Characteristics of the Oei Bizen Sword, The Hidden Spirit of a Fine Koshirae, On the Study of Japanese Swords (Footnotes).
69 pages, 8½ x10¾" soft cover

KOTO SHINTO MEIHIN SHU
NBTHK (1976)
"Koto and Shinto Masterpieces," Japanese-language text presenting 158 exceptional blades of the koto and shinto periods along with period koshirae(19) and sword fittings(49).
187 pages, 8¾ x 12¼" hardcover with slipcase
SHIN KO MEITO ZUFU
NTBHK Hyogo Shibu (1977)
This Japanese-language text presents 222 exceptional koto and shinto period swords with large format oshigata. Published one year after the NBTHK's better known Koto Shinto Meihin Shu (1976), it is notable for including works not seen elsewhere.
225 pgs., 8¾ x 12¼" hardcover with slipcase
WAGA KYODO TO
IIDA Kazuo (1973)
A Japanese-language text with examples of swords produced throughout Japan demonstrating wakimono - "country smith work" that does not conform neatly to the Gokaden, or five classical traditions. Numerous oshigata throughout.
238 pages, 5¼ x 7½" hard cover

IMPORTANT JAPANESE AND CHINESE ART FROM THE COLLECTION OF THE MANNO ART MUSEUM
(21 June 2001, London)
Christie's auction, includes 36 lots of Japanese arms and armor including 4 Juyo Bijutsuhin (Important Art Objects protected from export) and several ju-to; each lot extensively documented.
85 pages, 8¼ x 10½" soft cover

SWORDS OF IMPERIAL JAPAN: 1868-1945
J.Dawson (1996)
The reference guide for the identification of Japanese Government, civilian, and foreign service swords as well. This text utilized uniform regulations from the Japanese National Archives for identifications, and includes detailed text, photographs, and charts.
158 pages, 8½ x 11" soft cover

SAMURAI:
THE WARRIOR CLASS OF JAPAN
Barry Till (2003)
The history as told through arms, armor, prints and a host of other objects celebrating the samurai. This extensive exhibit catalog present the subject with a combination of color and b&w plates each well documented and supported by a historical survey in both English and French. Includes glossary and bibliography. Printed in limited edition of 2000 copies.
96 pages, 6 x 9" soft cover

THE CONNOISSEUR'S BOOK OF JAPANESE SWORDS (Token Kantei Dokuhon)
Kokan Nagayama, Translated by Kenji Mishina
Following an in-depth consideration of the history of the sword in Japan, the five traditions of workmanship and some outstanding Edo period examples, Nagayama's guide to sword appreciation expands on criteria to judge sword quality, identify flaws, and ultimately make a correct attribution. This ambitious guide includes an index and is supported by 560 b&w illustrations.
256 pages, 71/2 x 101/8" hardcover


TOKEN KANTEI DOKUHON and its
full ENGLISH TRANSLATION as published by the Token Society of Great Britain
Nagayama Kokan(1979), Translated by Kenji Mishina
Following an in-depth consideration of the history of the sword in Japan, the five traditions of workmanship and some outstanding Edo period examples, Nagayama's guide to sword appreciation expands on criteria to judge sword quality, identify flaws, and ultimately make a correct attribution. This ambitious guide includes an index and is supported by numerous b&w illustrations throughout.
Japanese Text: 383 pages, 5¼x7¾" cloth cover with slipcase


SHINTO TAIKAN
IIMURA Yoshifume (1976)
The authoritative standard on Shinto period swords. Japanese-language text with outstanding, large format oshigata. The oshigata are accessible to English-readers as Iimura's work has been included in the JSS/US Index to Literature.
1,650 total pages, 8¾ x 11¾" two hardcover volumes, slipcased
Also sold:
IIMURA's Yumei Koto Taikan (1982)
IIMURA's Shinto Taikan (1976) two volumes

TOKEN TOSOGU:
Treasures from the Tokugawa Art Museum
Tokugawa Art Museum (1998, expanded/revised edition)
Catalog of the Tokugawa Art Museum collection. The 240 examples present important blades primarily of Juyo to National Treasure class status (88 pages of oshigata), sword fittings, and koshirae (full mounting) to include many daisho. Spectacular photography throughout and printing on gloss stock -- all exhibits are shown in color with the exception of the blades which are shown in b&w as is traditional. This unprecedented collection of highest quality works includes a complete English-language index of exhibits along with descriptions making the content accessible to non-Japanese readers.
267 pages, 8½ x 10½" hardcover


TOKO TAIKAN
TOKUNO Kazuo (2004)
The final edition of the classic Japanese-language sword reference. It includes biographical information of the most important smiths of the Koto through Gendai periods and cites Yen values for comparison. The key feature of this text that sets it apart from other works is that it also includes thousands of oshigata for quick reference. Hawley's Japanese Swordsmiths references to oshigata found here.
794 pages, 5¼ x 7½" hardcover

TOKO

TAIKAN


TOKUNO Kazuo (1977)
Another classics Japanese-language sword reference; this well know handbook is often seen at the side of many collectors on the prowl. It includes biographical information of the most important smiths of the Koto through Gendai periods and cites Yen values for comparison. The key feature of this text that sets it apart from other works is that it also includes thousands of oshigata for quick reference. This exact edition was used for Hawley's Japanese Swordsmiths references to Tokuno's oshigata.


794

pages,

5¼

x 8½" hardcover

NIHONTO NYUMON
SHIBATA Mitsuo (1967)
Japanese-language handbook on swords. This text is packed with oshigata (rubbings of sword tangs with signatures) and informative illustrations. Many examples of signature details also included for comparison. This is the complement to a series of works by Shibata on a range of related topics.
254 pages, 5¼ x 7½" hardcover w/dust jacket & plastic cover

TOKO MINOMOTO KIYOMARO (1964)
A Japanese-language reference on shinshinto smith Minomoto (no) Kiyomaro. Includes 11 pages of oshigata and extensive text.
432 pages, 5¼ x 7½" hardcover

NIHONTO NO KAIKATA
Japanese-language handbook on swords. This informative text was prepared as a "buyer's guide" for Japanese swords. The first 65 pages illustrate an array of exemplary swords in the fashion of Fujishiro's Nihon Toko Jiten, these are presented on high quality gloss-stock. Many additional oshigata and informative illustrations follow throughout the ballance of the text.
290 pages, 6 x 7½" hardcover w/dust jacket

SABRES DU JAPON
Robert Burawoy Gallery (1993)
A uniquely designed exhibition catalog of Japanese swords and koshirae that makes use of its format to present stunning, large scale photography and oshigata on pages that fold out to 13¾ x 19½ when opened. French-language; includes glossary and bibliography of suggested reading. Limited edition of 600 copies.
26 pages, 4½ x 19½" softcover

TOKEN YORAN
Iimura Yoshiaki
A Japanese language handbook that covers many aspects of swords, including gendaito, and kodogu. The AFU Quarterly (Fall #3) featured an extensive article with an index to aid non-Japanese readers in using this text.
761 pgs, 4½ x 6" cloth soft cover

SWORDS & SWORD SMITHS OF BIZEN PROVINCE
Frederick Fimio (2001)
This book represents the only comprehensive work of its type in English - a source book on Bizen swords produced during the Koto through Gendai periods that draws on many scholarly references such as: Fujishiro's Nihon Toko Jiten, NBTHK journals, the Nihonto Koza, Hawley's Japanese Swordsmiths, and many other well known titles. Starting with an overview of the history and development of the swords produced in the region, an extensive glossary, diagrams and twenty-three plates of oshigata, the book's final synthesis is a 185-page annotated listing of Bizen smiths that references back to the above, previously listed texts and others while also adding the author's insight gained in 50-years collecting experience during which time Bizen works had become the focus of his studies. A helpful work for all students of Bizen-to. Limited printing of only 200 copies.
271 pages, 8¼ x 10¾" soft cover

JAPANESE SWORDS & FITTINGS IN THE WESTERN AUSTRALIAN MUSEUM
George Trotter (2002)
This text catalogs the museum's holdings with photographs and descriptions provided for each piece. Swords are shown along with their koshirae. The contents run a broad range from mass-produced Showa period items to also include many earlier works. 18 Color plates followed by numerous b&w plates as shown here. A historical overview, index of artists, table on Nengo dates, and glossary are also provided.
131 pages, 8¼ x 11½" soft cover

JAPANESE MILITARY SWORDS
R.Gregory (1971)
Predating joint efforts with Fuller, Gregory's monograph represents one of the earliest western surveys on war period swords. This seminal work includes a historical overview followed by a brief list of mon, 19 pages of oshigata, line drawings and photographs of koshirae and tassles and sundries. A numbered collector's book.
57 pages, 6 x 8½" soft cover

THE PROCESS OF KANTEI:
STUDY, APPRAISAL, AND ATTRIBUTION OF NIHON-TO
B.W.Kowalski
This text overviews the criteria for sword evaluation. The appendix has an excellent outline of the evolution of shape as it relates to distinct periods, and also includes illustrations from the NTHK novice course to demonstrate hamon variation and activity found within, while also establishing a reference of classic styles by den.
18 pages, 8½ x 11" soft cover

DAS SCHWERT DES SAMURAI
Lydia Icke-Schwalbe (r.1990)
German-language introductory text on swords and kodogu (fittings). The first section is text followed by 46 pages of plates in color and b&w. The text addresses general history and nomenclature. Detailed descriptions are included for each piece pictured.
95 pages, 7¾ x 8¾" hardcover

WAKIZASHI NO MIRYO KU
SHIBATA Mitsuo (1968)
This Japanese language text is unique for its focus on wakizashi. It offers 128 pages of photographic plates showing oshigata examples: nakago, full, and detail.
237 pages, 4¼ x 7" hardcover

TOSHO ZENSHU
Shimizu Osamu (1988)
A Japanese-language reference ranking 20,000 swordsmiths of the Koto through Gendai periods. Similar to Hawley's Japanese Swordsmiths, the sections on koto, shinto, shinshinto, and gendaito smiths note where and when each smith worked, how they signed, and the relative quality of their works. Additionally, the text is supported by 17 pages of kokuho shown in b&w plates and an appendix spanning a wide range of relevant study concerns.
714 pages, 6 x 8½" vinyl soft cover w/dust jacket, boxed

CIVILISATION DES SAMURAI
Musee D'Ethnographie De Geneve (1991)
This French language text covers a broad range of arts related to the samurai. 80 Large format color photographs accompanied by descriptive information. Plates 42-72 are of particular interest to students of arms & armor; includes: armor, swords, yanone, naginata and other related items. The balance of the book is concerned with prints, ningyo, and netsuke.
121 pages, 9½ x 13¼" hardcover, boxed

INDEX OF JAPANESE SWORD LITERATURE
G.Doffin
A listing of sword smiths indexed to the major references: Fujishiro, Ono, Sato, Suzuki, Tokuno, Nihonto-Koza, Compton, and many others. This important reference allows readers to locate source material for research.
177 pgs., 8½ x 11" spiral bound

NIHONTO NO KANTEI TO KANSHO
Hideaki TSUNEISHI (r.1990)
Japanese-language manual for sword appreciation and appraisal. Includes oshigata, diagrams, details on smiths/schools, historical data, fold-out chart and index in Japanese.
341 pages, 5 x 7¼" soft cover w/dust jacket

SPECIAL EXHIBITION OF DR. W. A. COMPTON'S JAPANESE SWORD COLLECTION
Japanese language text with English language forward. A very special and rare exhibit catalog of the best of the collection as presented in Japan. High quality, large-format detail photographs offer excellent research material on these important pieces. All of the Compton books are highly collectable. Here is an obscure offering to make your Compton collection reference library complete.
24 pages, 8¼ x 11½" stiff Japanese paper cover

---


203 Main Street, #245
Flemington, NJ 08822
U.S.A.


phone:
fax:
e-mail:


1 (908) 397-9283
1 (914) 206-3562
books@satcho.com

Home