KODOGU
G.Heckmann (1996)
A spectacular volume on sword-fittings in full color; the companion volume to Heckman's Tsuba. Kozuka, fuchi/kashira, and menuki are shown in color while oversized detail photos of signatures are b&w. English, German, and Japanese text. Limited edition of 1000 volumes.
264 pages, 12 x 12" hardcover with slipcase
TSUBA
G.Heckmann (1995)
145 Exceptional tsuba presented in a beautiful, large format volume; many never before published. Each color plate shows both front and back in actual size. Additional oversized detail photos of signatures are b&w. English, German, and Japanese text.
176 pages, 12 x 12" hardcover with slipcase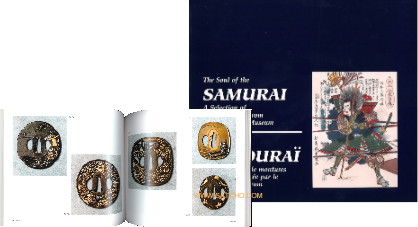 THE SOUL OF THE SAMURAI:
A collection of sword guards from the Vancouver Museum
Robert Hayes et al
This text includes 36 color and 117 b&w photographed examples. All tsuba shown actual size, while several include enlarged signature detail. All text in both French and English.
156 pages, 87/8 x 77/8" soft cover
TSUBA
R.B.Caldwell
This texts offers 64 Tsuba, many in color, plus a history of the art. Caldwell's recommendations on judging tsuba are particularly interesting.
44 pages., 8½ x 11" soft cover
100 SELECTED TSUBA
Haynes, Burawoy (1984)
Two noted authorities present an exhibition of tsuba assembled from important European collections. Includes high quality color and b&w photographs of iron and soft metal works. The forward addresses both the history of the collections and fittings scholarship. Text in English, French, & German. One of 300 special, numbered editions to include the author's 7-page bibliography of nearly 400 tosogu titles.
64 pages, 8½ x 12" hardcover
THE PICTURE BOOK OF OLD TSUBA
Robert Burawoy (1983)
Noted European authority, Robert Burawoy, presents 50 examples to support a frank discussion of tsuba history and evolution. This discourse runs throughout the text while additional commentary on the individual pieces is also included. Iron and soft metal works are shown in high quality color and b&w photographs. The printing of this book was limited to 500 editions with each numbered, embossed and signed by the author.
71 pages, 8½ x 4½" hardcover
SUKASHI TSUBA
KOKUBO Kenichi and SASANO Masayuki (1968)
Japanese-language text on tsuba with photographs of 200 sukashi examples produced during the Muromachi through Edo periods; each accompanied with description and commentary in Japanese. Included separately is an English-language index of artists making this text accessible to non-Japanese readers.
257 pages, 6 x 8½" hardcover
EARLY JAPANESE SWORD GUARDS: Sukashi Tsuba
SASANO Masayuki (1972)
A landmark text by a noted Japanese authority on tsuba. Starting with 26 pages considering the historical development of tsuba and the major schools, Sasano presents a solid foundation for the selected examples that follow. 216 Examples are shown; one example per page supported by assessments which include the author's insight on aesthetic qualities - an important consideration for understanding artistic works. Care and preservation are also addressed. Full size b&w photos; glossary.
284 pages, 7½ x 10½" hardcover
JAPANESE SWORDGUARDS:
MASTERPIECES FROM THE SASANO COLLECTION
SASANO Masayuki (1994)
297 Outstanding examples of sukashi tsuba are presented here in the final volume to come from noted expert Masayuki Sasano. Like his important 1972 reference, this volume is set up in gallery format - one tsuba per page plus commentary. A historical preface is supported by a unique demonstration in chart form which uses classic examples to assist the reader in placing tsuba to a given period. An essential text for students of iron sukashi tsuba.
341 pages, 8½ x 12" hardcover
STUDIES IN KYO GOTO
Kasahara Koju, Akimoto Shigeo (1988)
A unique text for presenting written survey

in both English and Japanese

of the waki-Goto schools, the fifteen branch families of the mainline Goto masters.

Tosogu

are shown full size with enlarged, detail photographs of inscriptions.

This English translation also extends to the captions and descriptions accompanying each plate.


334 Pages, 7¼ x 10½" hardcover with slipcase
KOKUSAI TOSOGU KAI,
2007 INTERNATIONAL CONVENTION
Nick NAKAMURA et al (2007)
The publication of third Kokusai Tosogu Kai International Convention and Exhibition features ten koshirae, each expertly photographed and documented in both English and Japanese. A private presentation held at the Frazier International History Museum. Limited printing of 400.
23 pages, 8½ x 12" soft cover
KINKO MEIKAN
MASUMOTO Senichiro and KOKUBO Kenichi (1974)
What Fujishiro's Nihon Toko Jiten is for swords, the Kinko Meikan is for fittings. With 630 pages of photographic plates arranged four to a page and magnified 1.5 times for detail, each artists is noted by province, period active, and rating; many with additional commentary. Clearly an important tool of study, and with its English translation an accessible tool of obvious value to serious collectors.
Two books: 669 pages, 5¼ x 7¼" hardcover Japanese text, and a separate 197 page English translation
JAPANESE SWORD-FITTINGS & METAL WORK IN THE LUNDGREN COLLECTION (1992)
A Japanese-language text presenting an important collection started in the 1930s by Stokholm antiques-dealer C.H.Lundgren. The collection as presented evolved through two generations to include the wide array of sword funiture and associated metal crafts shown here in both color and b&w photographic plates. English-language forward with Japanese text and index. Also included is a second volume - a full English translation: descriptions of the 377 items presented, and an overview of the collection prepared by Ogasawara Nobuo of the Tokyo National Museum and Kobayashi Terumasa of the Sword Museum.
159 pages, 8¾ x 10¼" hardcover, plus separate 60 page English translation
TAGANE NO BI
MATSUMOTO Seiji (1997)
This Japanese-language text on kodogu presents high quality examples available in the present market to those with a strong eye. Includes kozuka, kogai, fuchi/kashira, and tsuba. It is a beautiful picture book with spectacular color photographs on gloss-stock throughout. Even the iron examples are shown in full color.
135 pages, 8½ x 12" hardcover with slipcase

THE INDEX OF JAPANESE SWORD FITTINGS AND ASSOCIATED ARTISTS
R. E. Haynes (2001)
With 12,560 entries, Haynes' compilation of documented tosgou artisans is the most comprehensive in any language. This index, the result of five decades study, presents readily accessible information for each entry. Biographical information includes: name(s) alphabetized by its Romanji transliteration accompanied by the kanji, kakihan if used, period and location active, account of associations family/school, and a listing of sources of authentic signatures for each entry. The primary reference being Wakayama's Toso Kodogu Meiji Taikei. The index is followed by an listing of kanji presented by stroke count, and a bibliography of western and Japanese texts cited. The three volume set is made a ready reference in its custom book stand.
2460 Total pages in three volumes, 5¾ x 11½" soft cover
TOSOGU KODOGU MEIJI TAIKEI
WAKAYAMA Takeshi (1978)
Detailed, oversized photography of fittings inscriptions. This is the most extensive collection of tosogu artist signatures, and the primary reference cited by The Index of Japanese Sword Fitting and Associated Artists (Haynes, 2001).
Three volume set, 1087 Pages total, hardcover with slipcase.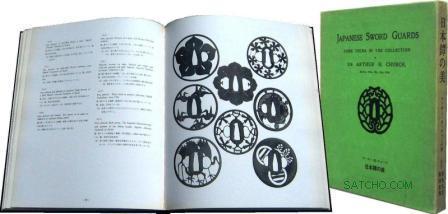 JAPANESE SWORD GUARDS,
Some Tsuba in the Collection of Sir Arthur H. Church
(Church et al, 1970 Japanese reprint of the original 1914 private printing)
Cited in the Ashmolean Museum's survey of Japanese art (Japanese Painting, Oxford: 2003) as one of "the best" nineteenth century collections of tsuba, Sir Arthur Church's privately published work was developed with the assistance of Henri Joly. The 272 examples shown are categorized into forty sections and represent top level works of their respective schools. The importance of this collection was appreciated in Japan as demonstrated by this 1970 republication. This edition has the added benefit of the original English content together with Japanese translation.
168 pages, 13 x 10½" hardcover with slipcase
KOZUKA 100 - The Claude Thuault Collection
Ogasawara/Thuault (1993)
Presented in both English and Japanese is the presentation of a western collection featuring detailed photography and descriptions of 100 kozuka. The study is followed by an 18-page commentary on the collection in both English and Japanese, and a three page glossary of terms not identified within with text of descriptions.
268 pages, 6 x 8½" hardcover
THE H. SEYMOUR TROWER COLLECTION OF JAPANESE ART
Henri L. Joly (r.1913)
This early auction catalog of the famed Trower collection includes 1847 lots with approximately 200 concerned kodogu: tsuba, kogai/kozuka, fuchikashira. Includes addendum with prices realized. Under Joly's editorship the descriptions, as expected, set the standard of the time and its index make this a useful reference. The initial 1913 printing was of 100 copies; this 1975 reprint was limited to 1000 copies.
170 pages, 9¼ x 12¼" hardcover
TOKYO KOKURITSU HAKUBUTSUKAN ZUHAN MOKUROKU: TSUBA HEN
ILLUSTRATED CATALOGUES OF THE TOKYO NATIONAL MUSEUM: SWORD GUARD
Tokyo National Museum (1979)
An important catalog of 542 tsuba from the Tokyo National Museum's collection. Many having been never before published until 1979, each tsuba is captioned in both Japanese and English.
191 pages., 10¼ x 7¼" hardcover
ONLY FITTINGS
Douglas J. K. WRIGHT (1996)
Presents 120 pieces from the Sydney L. Moss Ltd. exhibition of a collection assembled during the first half of the twentieth century. The author's forward, and introduction by Robert Haynes, note the uniqueness of the presentation as an assemblage reminiscent of Victorian-era collections focusing on aesthetics and craftsmanship.
76 pages., 8½ x 11½" hardcover
SUKASHI TSUBA IN EUROPEAN COLLECTIONS
Eckhard Kremers (1994)
Starting with a dedication to Masayuki Sasano, Kremers text follows a format similar to that of his teacher's. General guidelines for judging iron and overall quality are presented in the introduction while greater detail is offered throughout the text in reference to the specific pieces. Full size b&w photos; glossary; all text in both English and German.
189 pages, 9¼ x 11½" hardcover
TOSOGU NO BI,
Fine Japanese Sword Fittings: MENUKI
Saruta Makio (1994)
200 Sets of menuki showing fine detail in full color plates. Photographs present the front view of matched pairs, three sets per page as pictured. Japanese-language, with English captions and index. Limited printing of 700 individually numbered copies.
146 pages, 7½ x 10¼" hardcover with slipcase
TOSOGU: Treasure of the Samurai
Fine Japanese Sword Fittings from The Muromachi to The Meiji Period
Graham Gemmell (1991)
An extraordinary catalogs of sword fittings. Includes historical material on principle schools in addition to extensive documentation for each piece. Over 70 full-color plates; indexed by school, glossary.
151 pages, 8½ x12" hardcover
MASTERPIECES FROM THE RANDOLPH B. CALDWELL COLLECTION
Patrick Syz (1994)
Presented as the culmination of 30+ years of study and collecting, the name Caldwell is well know and his collection bares testament to his accomplishment. With 142 examples, each presented in full-color plates, it includes masterworks of sukashi and soft-metal tsuba, exceptional fuchi-kashira, and 19 pages of Goto works. Where applicable, detail photographs of inscriptions are also shown. Each example is fully documented; also included are a glossary and lengthy bibliography.
200 pages, 8½ x 12" hardcover
THE BAUR COLLECTION
Japanese Sword Fittings and Associated Metalwork
B.W.Robinson (1980)
Catalogs an unprecedented collection of sword fittings with over 2500 examples and 800+ signatures listed. Extensive documentation throughout on both the fittings and their makers. Includes 16 large color and 127pages of b&w plates; an additional 21 pages of detail photographs present the signatures for each signed piece in the collection. All text in both French and English. Limited edition of 1500 copies.
444 pages, 9¼ x 11½" hardcover
TSUBA KANSHOKI
TORIGOYE Kazutaro (1975)
This is the revised, expanded edition of Dr. Torigoye's 1965 publication of the same title. With its forward and captions in both Japanese and English, it is the author's intent to demonstrate the "intrinsic value[s] of [the] Japanese sword guard". First proposing the fundamental importance of the iron plate, this text focuses on the masterworks of tsubakō while a limited number of kinkō examples are included. Tsuba are arranged by school and shown using detailed photography and printed on gloss-stock for optimal results. Limited edition of 1000 copies.
398 pages, 8½ x 12" hardcover
NIPPONTO NO KOSHIRAE
Mountings of Japanese Swords
SUZUKI Katei (1964)
The author describes this text as the presentation of koshirae for those who would seek to make or assemble appropriate mountings for swords. Combined Japanese and English text addressing the history of sword mountings and describing the examples shown - many Juyo and Juyo Bijutsuhin included. There have been later studies by other authors, but these lack the English translation that makes this volume unique. With 74 b&w examples, and an additional 17 hand-laid color plates, each captioned in both languages.
141 pages, 7¼ x 10¼" hardcover
SWORDS OF THE SAMURAI
The Splendors of Japanese Sword Furniture
Lumír Jisl (1967)
A unique perspective on the art of kodogu. While primarily concerned with tsuba, other fittings are also addressed. Evenly divided, the first half is text the second exclusively plates in color and b&w. The text addresses general history and specific schools along with detailed descriptions for each piece pictured. English language edition.
120 pages, 8 x 8½" hardcover
THE SAMURAI SWORD: An American Perspective
Volume II: SWORD FITTINGS
Gary Murtha (1984)
An informative compilation of biographical material on tsuba schools and artists. Central to this reference is a 97-page listing of tsuba-ko and koa - personal seals. Much like Hawley's Japanese Swordsmiths this text is alphabetized for the romanized spelling of artists' names. Kanji are listed as are the periods active and genealogy. Unlike Hawley there is no reference as to relative value. Many examples in both b&w and color plates. A very useful text for research.
156 pages, 8¾ x 11¼" hardcover
TOSOGU MACHIBORI MEIHIN SHUSEI
FUKUSHI Shigeo (2005)
The companion volume to Fukushi's 2001 Goto treatise, here the author presents other masterworks from the Tokyo National Museum's collection. Includes 241 pages of color plates with ten fold-out plates of exceptional koshirae spanning over 40 inches in width, this spectacular text continues with finest examples kinko tosogu. As expected, oversized views of craftsmanship details and signatures are present throughout. Index and descriptions in both Japanese and English. The large format provides unparalleled representation. In all, an exceptional reference for serious tosogu students. Limited printing of 700 individually numbered copies.
427 pages, 10¼ x 14½" hardcover with slipcase


JAPANESE ART & HANDICRAFT
H. Joly and K. Tomita (r.1976)
Originally published in 1916 as a limited edition of 175 copies, this is the renown "Red Cross" catalog. As a fundraiser for the British Red Cross, this loan exhibition combined outstanding examples of Japanese paintings, prints, drawings, sculpture, netsuke, lacquer, inro, and metalwork. Sword fittings in particular are well presented taking nearly half of the book. 1,376 Items are illustrated in 162 b&w and 8 color plates. Each item is described and extensive documentation is also provided regarding the history of the major schools.
395 pages, 10¼ x 12¼" hardcover


Elementy broni samurajskiej, TSUBA
Henryk Socha (2003)
Polish-language survey of tsuba. Beautiful photography and layout, this text is notable for its presentation of 100 selected examples spanning both iron and soft metal works. These examples are preceded by an overview of principle schools and informative tables noting distinctive characteristics.
232 pages, 8½ x 12" hardcover

THE RAYMOND JOHNES
COLLECTION OF JAPANESE WORKS OF ART
(13 March 1973, London)
Christie's auction of Japanese art. Includes 136 lots: tsuba(62), kodogu(27) and swords(37), yanone(2), and katchu(8) ; eleven b&w plates.
46 pages, 7 x 9½" soft cover

CATALOGUE OF TSUBA IN THE COLLECTION OF THE BIRMINGHAM MUSEUM ART GALLERY
R.Hancock (1930)
The exhibit catalog of an important, early exhibition of Japanese sword guards in England. History and chronology are addressed in both outline form and throughout the catalog. Following the exhibition listing is a unique bibliography of early articles and texts, then shown are thirty-two prime examples in b&w plates; index, and glossary.
200 pages, 4¾ x 7¼" soft cover
JAPANESE SWORD FITTINGS
Armor & Arms Club (1924)
Rare, limited edition publication of an early Metropolitan Museum presentation notable as small fittings predominate. Well documented; all photography in b&w.
Unpaginated, approx 200 pages, 11½ x8¼" hardcover

TOSO NYUMON
SHIBATA Mitsuo (1968)
Japanese-language handbook on sword fittings. 90 Pages of b&w photos of complete sword mountings and individual fittings: tsuba, fuchi/kashira, menuki, kozuka, and kogai. One color fold-out of three daisho is also included. This is the complement to a series of works by Shibata on a range of related topics.
192 pages, 5¼ x 7½" hardcover w/dust jacket
FABULEUSES TSUBA JAPONAISES,
Exposition de la Collection du Docteur Walter A.Compton
L'Arcade Chaumet (G.Portier, 1976)
A French language exhibit catalog of outstanding tsuba from the Walter Compton collection. A total of 77 exhibits, both soft-metal and iron examples included; pictured are 19 in full-color.
25 pages, 7 x 9½" soft cover

TOSO KINKO KANTEI HIKE
WAKAYAMA Takeshi (1988)
Japanese language handbook on sword furniture and its manufacture. B&W photographs throughout; primarily tsuba.
288 pages, 5½ x 7½" soft cover, boxed



A PICTURE BOOK OF JAPANESE SWORD GUARDS
Victoria & Albert Museum (r.1978)
This is a reprint of a 1927 booklet on tsuba. 26 Examples of various types are illustrated in b&w, each accompanied by short descriptions.
22 pages, 5½ x 8¼" soft cover

KUNSTGEWERBE IN JAPAN
Otto Kümmel (1919)
A German-language survey of Japanese art as included with 32 pages on arms and armor with most of the plates focused on

tosogu

.
200 pages, 6½ x 9¾" hardcover

Boston Museum of Fine Arts
JAPANESE SWORDGUARDS
Kakuya Okabe (1907)
A very early catalog from the Boston Museum Fine Arts exhibition of 1907. Drawing form both the museum's holdings and important western collections of the period, this text is divided into three sections: a concise history of tsuba making, an extensive annotated listing of tsuba artists and schools, and exhibit catalog including special notes on certain examples. This is a rare find and in excellent condition.
Unpaginated, aprox. 140 pages, 6½ x 9¾" hardcover

---


203 Main Street, #245
Flemington, NJ 08822
U.S.A.


phone:
fax:
e-mail:


1 (908) 397-9283
1 (914) 206-3562
books@satcho.com

Home

Ordering Instructions

© Copyright SATCHO, 1999-2009.
All rights reserved.